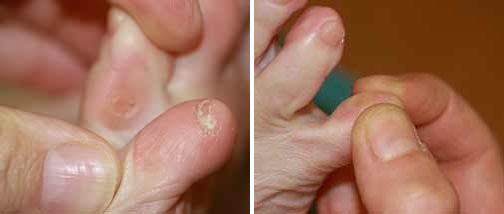 The partridge-eye
The partridge-eye is characterized by a small ulceration on the lateral side of the toe. Unfortunately, it does not heal, or even worsens over time.
This interdigital horn usually sits in the fourth interdigital space. Often, painful skin irritation is the result of excessive length on one of the phalanges of the toe. Thus, it is linked to excessive contact between both toes.
In case of failure of medical treatment (local care, interdigital orthoplasty), a surgical gesture can be proposed. An abrasion of the bony growth, a skin plasty of the commissure, or even an arthroplasty of the joint responsible for the horn can then be performed.