Definition, Clinical
The flat foot or collapse of the arch is common in young children. It corrects himself most often alone, otherwise he imposes the wearing of orthopedic soles. The flat foot means that, in the middle part of the foot, the arch of the foot touches the interior floor excessively. It will go so far as to overtake the inner edge.
It is frequently associated with a deflection of the ankle outwards (valgus flat foot: when looking at the ankle from the rear, the lateral toes are excessively visible).
It can be manifested by a slight casing, repeated falls, premature wear of shoes, abnormal bone visibility below the internal malleolus, pain, cramps, or fatigability to exertion.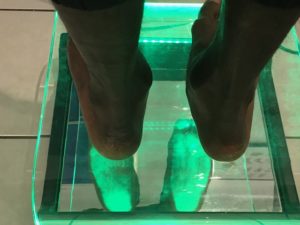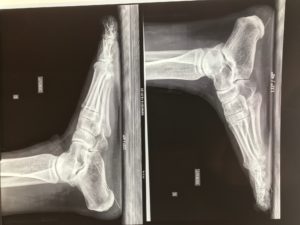 Different types of flat foot
Congenital flat foot, present at birth, without real cause and which will disappear most often during growth (tissues of the plantar arch too soft at birth). As the tissue grows stronger, it becomes a real vault. Treatment of the flat foot is considered in the case of typical walking disorders falls, but most often custom molded orthopedic shoes are sufficient to correct the problem.
Flat foot acquired, on the occasion of positional disorders during growth, or tissue tear, but also obesity, or menopause. Often this one is well tolerated, and it is with aging, and a less good adaptation that the patient will be required to consult. In this case, orthopaedic soles are usually sufficient to correct the problem. This degenerative flat foot is often related to posterior tibial tendon tendinopathy. Patient consults for internal pain in the posterior part of the ankle. The posterior tibial muscle stabilizes the heel, and keeps the forefoot straight, at walking. It may also be related to a lower limb rotation disorder, or knee axis, neurological disorder, rheumatoid arthritis, diabetes, or fracture.
Treatment
The pre-therapeutic check-up includes standard x-rays in charge (adult osteoarthritis research), and most often an ultrasound or an MRI to specify in particular the condition of the posterior tibial tendon.
First, we prescribe soles with internal corner supinator (especially in children), to dig the internal arch of the foot. The soles in the young can also be used to "tone" the arch. We give advice of shoes wearing, and self-rehabilitation, aimed at relaxing the triceps muscle (muscle of the short calf).
In children before adolescence it is possible to propose:
elongation of triceps, achilles tendon, +/- fibular tendons,
the installation of a transient wedge between astragalus and calcaneum (triangular external base),
Synostosis support if applicable (see glossary)
In adolescents or adults, it is proposed to:
elongation of the triceps muscle,
tendon transfer if presence of posterior tibial tendon rupture,
calcaneous osteotomy (external elongation of Evans),
Talo-navicular and subtalian arthrodesis (in the case of osteoarthritis or inflammatory pathologies such as rheumatoid arthritis).